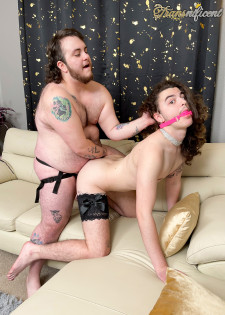 Leo Lovely ordered some food on the GroobHub app and the delivery guy turned out to be the hot Teddy Bare Naked. After helping Leo bring the food upstairs, Teddy pulls a strap on out of his delivery bag and straps it on. Teddy spanks Leo's cute butt with a crop making it bright red before fucking him an multiple positions. Leo cums so hard over and over before having his biggest orgasm while riding Teddy in reverse.
12th Jul 2022
29:52 HD Video
& 177 Photos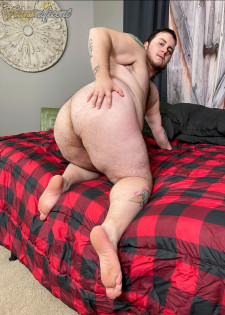 Teddy is back and he wants to get down and dirty! He immediately strips off his clothes and gets comfortable. After mandatory chest and belly rubs, Teddy moves closer and closer to his throbbing dick. He tugs on it and shoves his fingers deep in his dripping hole. Teddy decides you deserve to see his amazing ass, so he bends over and puts his big booty right in your face and plays with his hairy hole, moaning as he goes in and out with multiple fingers. He then decides he needs a bit more than just his fingers and pulls out a special toy to play with. After turning his vibe on, Teddy goes to town on his dick and hole with his toy and you can see his hole get wetter and wetter as he continues. Once he can't hold it any longer, Teddy finally lets himself cum so hard that you can see his boy pussy drip creamy cum around his toy!
23rd Dec 2021
16:40 HD Video
& 127 Photos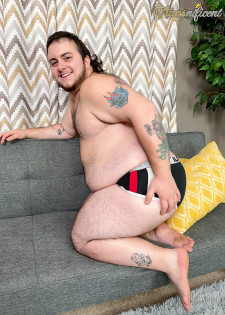 Teddy Bare Naked is a 23 year old cutie originally from Alaska. Now living in Portland, Teddy has been able to be his most authentic self and loving every moment. Teddy is new to the industry, having only started in May 2021, but he assures you that you will see more of him around as he works on creating tons of content! In his free time, Teddy enjoys making clay sculptures and in general anything that he can get his hands dirty doing. Teddy is a hairy BHM teddy bear who loves belly rubs and cuddles just as much as he loves being dominant in the bedroom and he's here to show you just how lovable and fuckable he is!
10th Nov 2021
13:10 HD Video
& 115 Photos