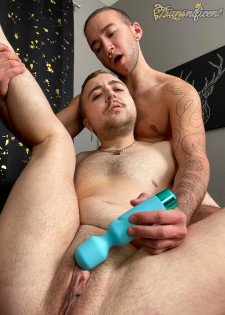 Haskell Holland and Ari Koyote have seen each other at numerous sex parties throughout the years, and yet they have never had the chance to play we with each other. Haskell was worried that Ari was only a bottom due to how many dicks he usually sees Ari take, but he is in for a sweet surprise. Not only does Ari top, but he does it well! Ari sucks and fingers Haskell's wet dick and hole until he squirts multiple times, and then fucks him till they both lose count of how many times Haskell cums! Haskell then returns the favor by fisting Ari's stretched, pierced hole until he gets his turn to cum as well!
28th Dec 2021
34:39 HD Video
& 200 Photos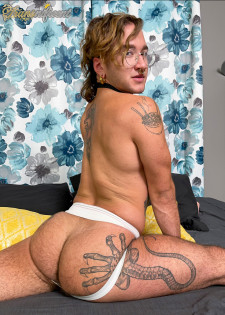 Ari Koyote is back and he's moving on to BIGGER, better toys in this hot scene produced by Penny Petalz & Nikki Sequoia! Ari jumps right in and starts teasing you by showing off his hot ass in his jock strap. He slowly teases his holes, but then he gets down to business pretty quick by jerking his clit and fingering his pussy. Ari then adds another finger to the mix, then another, and another until his entire fist is buried wrist deep in his wet hairy boy pussy! You can see how excited he is as his juices drip and flow all down his ass and legs. Ari decides that he needs to take it to another level and pulls out a massive dildo and shoves it right in, opening him up so wide. He fucks himself hard and shows off his huge gaping hole before he cums all over the giant cock that stretched his boy pussy to the max!
17th Dec 2021
14:22 HD Video
& 116 Photos
Today we are excited to introduce you to Ari Koyote! He is new to Grooby and he's going to show you exactly why he belongs here. Ari starts off by telling you a bit about himself, which turns sexual pretty fast. He mentions how much he loves huge toys and he can't wait to show you! Ari strips down and plays with his hairy boy pussy by jerking off his swollen clit, and fingering his hole. He can't help but let out the hottest moans and you can just tell he is feeling great. His hole gets super wet and he decides he needs something big in there, so he brings out a pretty big dildo to stuff in there. After sucking it a bit, he fucks himself silly, edging multiple times. You're going to find yourself unable to look away as you watch this hot man pleasure himself in this spicy Grooby debut produced by Penny Petalz & Nikki Sequoia.
1st Nov 2021
13:33 HD Video
& 114 Photos